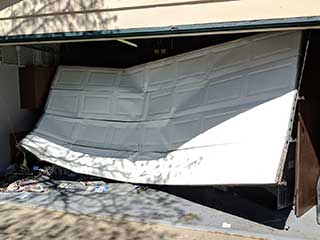 Although garage door openers and materials used for the construction of doors are durable today, some issues are still unavoidable. Be it the result of natural wear and tear, but certain issues are related to improper installation, domestic accidents, mechanical faults or lack of maintenance. During such incidents, the door might not close or open all the way, might reverse without a good reason or might get jammed. Homeowners often deal with broken springs or cables, which have come off the drum. These are all emergency problems because they keep people from using the door, compromise the security of their house or put their safety at risk. Such issues are handled by our company in a timely manner. Equipped to assist clients, our professionals offer garage door emergency services.
Same Day Garage Door Emergency Services
Garage door parts wear over time, might get loose with daily use, and will get damaged if a car bumps into the door. When consumers fail to buy the right component size to carry the door's weight, parts might snap or malfunction. The motor of the opener must have sufficient horsepower to activate the door's movement and in a different case it won't operate properly. Failure to replace springs at the right time or when a heavier door is installed will also cause problems since springs will break. Such problems can be serious since they will keep the door from performing the right way. It might get stuck in the opening position or won't open at all. With misaligned tracks, for example, the rollers will pop off or get jammed and the door will just get stuck.
These issues do not just cause inconveniences but might also be safety hazards. A door failing to close down will also cause security issues. For reasons like these, our business offers emergency garage door repair. By troubleshooting the problem, our professionals discover what caused the door to malfunction in the first place. Whether the issue is related to mechanical parts or the opener itself, we can have it fixed. From putting the cable back on the drum and fixing the garage door rollers that had popped off the tracks to repairing the reverse system of the opener and adjusting its chain, our technicians can fix all parts causing the problem.
We Repair and Replace All Garage Door Parts
The experts at our company can repair and replace all parts. Customers can rely on us for broken spring replacement, fast response bent track repair, door adjustment, and sensor or remote repair. Our experience in openers made by the largest manufacturers enable us to take care of all issues related to Marantec, Genie, Sears, Craftsman and Liftmaster door openers. We guarantee that all urgent issues will be fixed quickly due to our fast response time. Call us if you need garage door emergency services now! We provide same day repair!