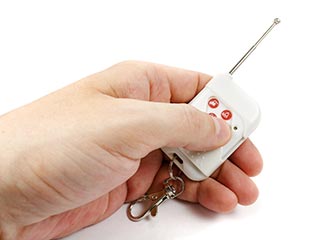 Tired of parking the car outside and frustrated of pressing the garage door remote to lift the garage shutter? Most apparently the problem is with your garage door remote that needs to be fixed. A garage door remote is like any other remote control of an electronic device, which helps in opening and closing the entrance gate of the garage easily from a distance.
Garages are important places within houses since people keep in there many personal belongings, such as furniture, seasonal cloths and their children's toys. Therefore, the door of the garage needs to operate properly in order for the owners to come and go as they please. In fact, you must pay utmost importance to the regular maintenance of your garage door as any of your electronic devices at home.
Can't Get Your Garage Door Open? Check Your Remote!
Are you surprised? It's simple. Difficulty in opening the garage door is mostly due to the problem with the remote control. However, you should check the remote before you call for a mechanic or buy a new one. The remote often does not respond due to the dirt in the sensors or battery drainage. If you find dirt, you may try clean the dirt on the sensor with a muslin cloth.
All the Major Remote Brands Available
We have a complete range of garage door remotes like LiftMaster security, Genie intellicode, clicker and multi code. It is quite possible that your garage door remote has completely been damaged. In that case, you must buy a new remote.
The five following steps is the installation procedure of a new garage door remote:
Step 1 – Get a new garage door remote from our garage door repair company and get started with the installation process.
Step 2 - Check the availability of all the parts of the remote and take the remote out of its case. Read the manual instructions carefully to have an idea about the possible functions of your remote.
Step 3 – Put your batteries inside the remote in the right direction. Make sure to close the battery cover. Keep a set of new batteries with you as the battery given with the remote doesn't work many times.
Step 4 – Check if the battery has been put properly by hitting any button. With the hit of a button, you will see the LED light elucidating. Set the programs in the remote.
Step 5 – Now your remote is ready to be used. In case of further problems, refer to the manual or contact our customer service center.
If you have any specific questions, which have not been addressed on our website up to your satisfaction, then please feel free to contact us on 888-960-6655. Our eager expert team will get back to you with the best suited solutions as early as possible.