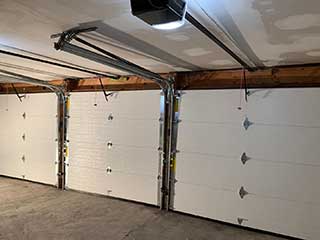 There are plenty of reasons why your garage door will not work. There are some problems that can easily be handled by the homeowner, but some issues call for the service of an expert service technician. If you would like to do a little troubleshooting before calling us for help, here are some things you should be aware of.
Common Issues
Alignment
In order for the doors of your garage to continue working, the track must be properly aligned. If you visually inspect the track and notice that there is some inconsistency's, it will be necessary to call us for servicing.
Batteries
Your transmitter needs power in order to operate. If you have a transmitter that uses batteries, there is a chance the batteries need to be replaced. If your doors aren't working, why not replace the batteries and see if this doesn't resolve the problem.
Doors Opening and Closing
If your doors are opening or closing without you wanting them to, this can be annoying. You'll need to find out what is causing this to happen and you can start by finding your remote and making sure nothing is pressing against the control button. If you have it in your hand and this isn't the case, there may be someone in the area with the same frequency and it is also operating your doors. You may need to scout out your neighbors to see who it could be and come together to discuss a solution.
Sensors
The sensors located on the sides of your garage, have a beam running between them. If the beam is obstructed by something it will not allow the doors to close. They may also be misaligned. If something is in front of them, simply remove it and the doors should begin working again. If they are dirty, there is a right way and a wrong way to clean them. Consult with our service technicians about how this is done.
Broken Springs
Your opener is not always to blame when your doors do not open. In some instances, it can be caused by a broken spring. When there is a broken spring, the opener is not able to lift the doors. Repairing a spring is a job that is best left to the experts. They exert a lot of power and can cause harm if you are not familiar with how they function.
You should be aware of how your garage door normally operates and how it is operating now so that it can be explained to our service technician. They will still do a thorough inspection to determine exactly what the problem is. However, prior to calling us, you may already have some idea what the issue could be, based on the aforementioned information. Let us tell you if your suspicion is correct.