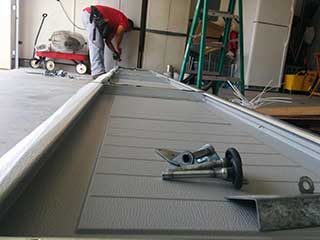 Garage doors are very important assets to our homes and must always be kept cleaned, repaired and in excellent operational condition. After all, they guarantee our security as well as beautify the exterior of our houses and thus raise their value.
Get a New Garage Door
Nowadays, most of them are automatic, not only for your convenience, but also for your quick entry into your property, which will ensure your safety. You can choose sliding or rolling garage doors in various sizes, styles, materials and colors. It depends on the space of your garage and surrounding area as well as on your requirements. For example, you may choose:
An aluminum door, which is very stable and durable. These doors can withstand extreme weather conditions but they are expensive.
Wooden garage doors are better suited for lovers of the traditional style, but they are more sensitive to the natural elements, and they are not as strong as the other types.
Steel garage doors are also very strong and expensive but they are heavy and thus they can last for a long time.
The newest models come out in glass, which is an exquisite material for modern look that also brings light into your private premises. Yet, glass garage doors need more care than the others.
All types may be produced in different colors, so you can choose the one that matches your house.
Regardless of your final choice, you must always make sure that you keep your scheduled garage door repair appointments. Our technicians have the experience to distinguish the door that needs to be replaced.
Repair or Replace?
Sometimes, the investment of a new garage door might cost you less than keep maintaining an old one, which does not offer you the same security and safety. After all, most garage doors today are made under certain safety regulations and technical specifications and have plenty of accessories for the enhancement of your security and safety. Our people will install you the new door with precision and professionalism and they will repair any possible damages in the future.
The mechanic as well as the electronic parts of the garage door must always be kept well maintained for an outstanding performance and safety reasons. Who said you can't combine quality with style? Call us now at 888-960-6655 and we will gladly answer all your questions.