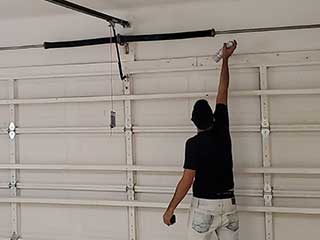 One of the most crucial parts of your house is the garage door. The garage door requires scheduled maintenance for proper functioning. Scheduled garage door maintenance is a wise decision as it avoids unnecessary financial losses incurred due to untimely replacement of an expensive garage door and its components. Our expert team at Automatic Garage Door Riverside has an unparalleled experience of garage door maintenance and adjustment. Regular maintenance and lubrication of garage door components enhance garage door durability. We provide complete range of solutions for garage door maintenance, adjustment and lubrication for domestic and business customers.
How To Protect Your Garage Door
Garage doors are usually made up of wood or metallic components. Metallic doors have longer durability than wooden garage doors. Installation of metallic garage doors requires higher financial investment than wooden garage doors. Wooden doors need repainting regularly to minimize the adverse effects of weather. Direct sunlight and rain affect the surface of the garage door and its components and hasten the erosion process. Bent surfaces of garage doors inhibit their free movement downward and upward and cause imbalance in the garage door operating system. Even metallic doors need frequent repainting to avoid contacting rust. A proper and functional garage door increases the value of the house and gives a facelift to the property.
Maintenance lubrication in a regular basis augments the lifespan of the garage door operating system. Regular lubrication lowers the erosion, thereby increasing the product lifespan. This checks the wearing loss and saves the garage owner from unnecessary expenses of garage door replacement.
Garage Doors are Heavy Components
Movement and vibration of heavy components such as the garage door, lead to loosening of the screws. This may result in fatal accidents. So, the screws should be tightened regularly to avoid any mishap. The battery charge status has a direct impact on the performance of the garage door operating system. Standby batteries should always be kept handy for any emergency need. It must be ensured that no storage object blocks the pathway. Any obstruction in front of the sensor eyes of the garage door operating system inhibits the proper signal reception by the remote signal reception system resulting in uncontrolled actions.
Keep Your Garage Enterance Clean
Several organic materials, such as leaves, dust and cobwebs get trapped in various components of the garage door. In case these foreign objects get caught up in springs and pulleys, the normal movement of the various components is hindered. This is commonly noticed in case of presence of thick vegetation in the surrounding area. Wearing actions because of ill maintenance result in significant financial losses and difficulties.
A scheduled maintenance of the garage door operating system should be performed to ensure efficient hassle free operations. You can give us a call any time on 888-960-6655. We are available around the clock for your queries and problems.